Blog Analytic Services for JISC MRD Project Blogs
JISC MRD Project Blogs
As can be seen from the Google Reader Bundle aggregation of the JISC MRD project blogs many of the projects have now set up a blog, as contractually required, and are now starting to publish blog posts.
Approaches to Measuring Effectiveness
As mentioned in the workshop session on "Blogging Practices To Support Project Work" which I gave at the JISC MRD Launch Meeting projects may also need to give some thought to ways in which they can measure the effectiveness of their blogs.
On the UK Web Focus blog I have carried out a number of surveys, most recently in November 2010, which provided feedback from blog readers. However this can be a time-consuming process and, for project blogs which may have a niche readership, may fail to gain sufficient numbers of responses – especially if all 17 Research Data Management Infrastructure Projects chose to announce a reader survey at the same time!
Many blog platforms will provide widgets which can allow readers to rate posts, or give other indications of interest in the content of posts (including, it should be added, disagreement with the contents) by liking them or favouriting them in social networking environments of tweeting links to the post.  As illustrated below the blog post on EPub Format For Papers in Repositories has received 4 votes.

However once again it cannot be guaranteed that readers will be willing to make use of such tools. And although it may be easy to interpret a meaning for number of positive votes it the ratings are poor, as they are for a post on are Thoughts on Google Scholar Citations does this indicate criticism of the post itself (poorly written and flawed arguments) or a disagreement with the subject of the post?
An alternative approach, which was mentioned at last week's blogging workshop session, would be to register your blog with a blogging analytics service.
A post on #jiscmrd 2011-2013 Launch Meeting – Blog analytics on the Research Data Toolkit blog highlighted ways in which Google Analytics can be used to measure usage statistics, and mentioned the  Web Ninja Google Analytics Plugin which can be used to "bring immediacy and motivation to blog in a way that the more extensive but remote Google Analytics dashboard does not".
Google Analytics will be familiar with most projects and is likely to be used on many project Web sites.  But there are also analytic services which have been developed to provide an understanding of the ways in which blogs are being used, in particular through the analysis of comments and trackbacks which do not normally feature on conventional Web sites.
Ebuzzing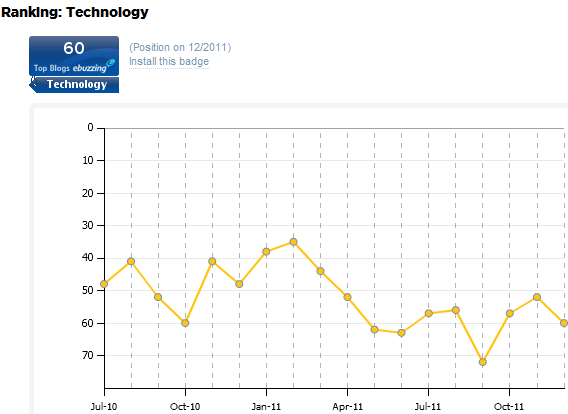 Ebuzzing, which was until recently known as Wikio is one such service.  A graph of an analysis of the EBuzzing statistics for the UK Web Focus blog is illustrated.  As can be seen the blog is currently ranked at 60 in the Technology category, and peaked at 34 in February 2011.
The service was rebranded on 25 November and it seems that the documentation of how the ranking are determined is not currently available, although the following summary was posted earlier this year:
The position of a blog in the Wikio ranking depends on the number and weight of the incoming links from other blogs. These links are dynamic, which means that they are backlinks or links found within articles.
The post goes on to answer questions on How do you move up (or down) the rankings?, Which links do you use?  What about links in the sidebars of blogs?, what is the point of these rankings?, Why do you have some US blogs in a UK ranking list, and How does a blog become registered to be considered for the rankings?
It should also be noted that registering for the service can provide an additional access route to your blog as well as providing links to a number of social media sharing services, as illustrated below.  Note that this shows that there have been five tweets about the post on Paradata for Online Surveys – although the link providing details of the tweets seems to be broken.

Technorati
There can be dangers in using a single analytics service, especially is the underlying algorithms are not documented and the relevance is unclear.  However making use of additional service can help to provide a better understanding of a blog's connectedness in the blogosphere. One such service is Technorati.
The Technorati service does provide a somewhat more detailed description of the approaches it takes to identify authority and rank:
What is Technorati Authority?
Technorati Authority measures a site's standing & influence in the blogosphere. With the October 2009 redesign of technorati.com, we've changed the Technorati Authority calculations to better reflect the continually changing attention of the blogosphere.
We have also added a new measure of Technorati Authority, which is topical by content category, i.e., technology, movies, automotive, etc.
How is Technorati Authority calculated?
Authority is calculated based on a site's linking behavior, categorization and other associated data over a short, finite period of time. A site's authority may rapidly rise and fall depending on what the blogosphere is discussing at the moment, and how often a site produces content being referenced by other sites.
The new Authority calculation differs from the past version, which measured linking behavior over a longer 6 month timeframe. Please note that links in blogrolls don't count towards Authority, as they are not indicative of interest in relevant content; we stopped including blogroll links in August 2008.
Authority is on a scale of 0-1000. 1000 is the highest possible authority.
What Should You Do?
There are lies, damned lies and Web analytics, to paraphrase a well-known saying.  Analytics services for blogs may also be subject to gaming (such as artificially generating links to blogs in order to inflate rankings), may fail to understand the purpose of a blog (it may be a reflective blog, which isn't intended to gain a big audience and solicit feedback and comments) and could lead to misleading league tables being published.
Whilst such comments have elements of truth, there may still be a requirement to be able to provide information on a project blog's effectiveness.  The approaches listed at the beginning of this post may therefore be relevant.  But it should be noted that use of the two blog analytics services I've mentioned will require no additional effort  on the part of the blog provider or the reader, once the blog has been registered with the service.
I therefore feel that there can be advantages to projects in registering their blogs with these services.  But in addition to possible benefits to the individual projects who chose to do this, there may also be benefits in being able to have a picture across all project blogs. Adding a keyword in Technorati of 'JISCMRD' for example, would enable the Technorati ranking for the blogs to be easily aggregated.  An example of this can be seen from a Technorati, search for 'JISC' from which we might deduce that the JISC Digitisation, Lorna's JISC CETIS blog, UK Web Focus and MASHe blogs seem to be successful in generating discussion across other blogs.
A Road map for altmetrics
The altmetrics Web site provides access to altmetrics: a manifesto which describes how "the growth of new, online scholarly tools allows us to make new filters; these altmetrics reflect the broad, rapid impact of scholarship in this burgeoning ecosystem" and goes on to "call for more tools and research based on altmetrics.".
The JISC MRD programme with its interest in management of data across the research community and the requirements for projects to blog would appear to provide an opportunity to explore altmetrics in the context of blogs.  The two commercial services I have mentioned might provide an opportunity to begin such exploration.  But I am sure that we will see the development of more appropriate tools targetted at the particular requirements of the research sector being developed. Perhaps by the end of the current JISC MRD programme we will be using such tools to analyse the blogs.   In the interim projects may wish to consider using the services I have mentioned.
I should add that this is a suggestion and I'd welcome feedback, including concerns and criticisms people may have.