Launch of Greening Events II: Event Amplification Report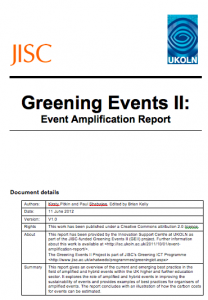 I'm pleased to announce the official launch of the Greening Events II: Event Amplification Report. This work has been carried out as part of the UKOLN Innovation Support Centre's work for the JISC-funded Greening Events II project, which is being led by the University of Bristol.
The report documents best practices for the organisation of amplified events, which can not only help to raise the visibility and impact of ideas discussed at conferences and provide accessibility benefits for those who might not be able to attend an event in person, but also provide environmental benefits by minimising the need for unnecessary travel.
The report will be launched at UKOLN's IWMW 2012 event. This is an appropriate forum for the launch as, as described on the UK Web Focus blog, the event itself will be amplified to a remote audience through the live video streaming of the plenary talks at the event.