Adding Google Juice To Your Repository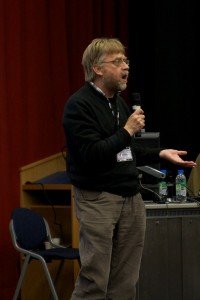 Brian Kelly of UKOLN ISC presented a poster in the Poster Minute Madness session on Tuesday, promoting the paper "Can LinkedIn and Academic.edu Enhance Access to Open Repositories?" which he co-authored with Jenny Delasalle of the University of Warwick. The poster focusses on the importance of adding 'Google juice' to your institutional repository by generating more links to individual papers deposited in an IR.
Brian has the largest number of downloads from OPUS, the IR of the University of Bath and he has an h-index of 11 for his papers on accessibility in particular are being well-cited. Research carried out by Brian and Jenny suggests that the large number of downloads and citations may be due to inbound links from popular services such as LinkedIn and Academic.edu.
More research needs to be done in this area, but should repository managers be acting on the current findings? There are obvious benefits of actively encouraging researchers to link to their papers from popular profile services used by their fellow researchers. Jenny's review of the sector suggested repository managers are not being pro-active in promoting the use of such services. Why is this? What, if any, are the barriers?
Brian wrote a blog post that summarises the paper and another about the poster session. Jenny has blogged further thoughts on the original paper as part of this ongoing discussion.
For those not able to attend or wanting another look, there is a SlideShare presentation available,  based on the poster.
The debate carries on, so if you didn't have time to contribute during the session or you weren't able to attend the conference, please join in by leaving a comment on Brian's blog and/or tweeting at Brian and Jenny.