"Top 10 Tips on How to Make Your Open Access Research Visible Online" Published in Jisc Inform
The Jisc Inform Newsletter (issue 35, December 2012) features an article by Brian Kelly on Top 10 tips on how to make your open access research visible online.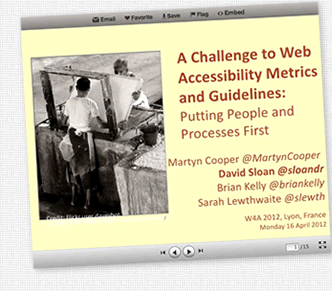 The article is based on a blog post originally published on the Networked Researcher blog which was tweaked slightly and republished on the Jisc blog. The version published in the Jisc Inform newsletter includes a series of images to accompany each of the ten tips.
The tips were originally developed to accompany a series of presentations given at the universities of Exeter, Salford and Bath during Open Access Week. These presentations were based on the experiences gained in use of social media to help maximise access to peer-reviewed publications. In particular the tips documented the experiences of use of social media services such as blogs, Twitter and Slideshare  to help maximise the readership of a paper entitled "A Challenge to Web Accessibility Metrics and Guidelines: Putting People and Processes First".
As a reminder, here are the ten tips:
Be pro-active
Monitor what works
Make it easy for readers
Don't forget the links
Encourage feedback and discussion
Develop your network
Understand your social media network
Know your limits in the social media environment
Seek improvements
Participate!
The article expands on these tips slightly, but doesn't address the limitations which will be inevitable when seeking to provide advice in the form of 'top tips'. However the tips are themselves extensible and, as described in tips 6, 7 and 8 you will need to Understand your social media network; Know your limits in the social media environment and Seek improvements.