REDIC project – contributing to improved information about research equipment in the UK
The JISC-funded REDIC (Research Equipment Database in CERIF) project has recently been completed and deliverables are becoming available to the community. It sits alongside several other initiatives addressing the lack of available information about research equipment. Most universities own large quantities of expensive research equipment  which can include individual items costing millions of pounds. There is no national database of equipment/facility data and moreover, desk research carried out by REDIC suggests that most universities do not maintain their own internal registers of equipment. The current initiatives tackling different parts of the problem are partly in response to the Research Council 2011 changes in how equipment is funded on grants; the aim is to gain the best possible value from existing capital investments (includes procurement efficiencies as well as promoting the sharing of equipment across institutions). In addition to REDIC, UK initiatives include:
The JISC-funded Kit Catalogue Project carried out during 2011 at Loughborough University delivered an open-source system available for any HEI to catalogue and share information about their research equipment. The catalogue implemented at Loughborough is publicly available
The University of Leeds together with its partners within the N8 consortium has developed and implemented a common taxonomy to categorise medium and large-scale research equipment
Funded by EPSRC, the Uniquip project aims to deliver a set of standards for cataloguing and publishing information about research facilities and equipment; partners are the Universities of Southampton, Leeds, Loughborough and Bath
The University of Bath has also integrated its existing >£10k asset register into Pure (allowing linking of equipment to other information such as outputs)
CASRAI UK is likely to take forward work on an authoritative list for equipment/facility.
REDIC is a JISC-funded rapid innovation project which ran from June to November 2012. Managed by the University of Edinburgh Digital Library, development was carried out by EDINA. The project has built a CERIF-compliant prototype system and infrastructure to support an authoritative registry of information about research equipment and facilities, intended for use by researchers. Making the prototype available in the CERIF format enables incorporation or referencing in local Current Research Information Systems (CRIS) or institutional repositories.
The prototype model is shown below.  SWORD is used as the deposit mechanism and DSpace as the record store. The use of Sword was a challenge initially because SwordV2 did not interface with DSpace in the way the project required. However this was fed back into the DSpace/Sword communities for discussion and resolution.
The core dataset used was recommended by the Uniquip project and acquired from Southampton via the data.ac.uk site. Other datasets (such as the N8 taxonomy) can be added as required by adjusting the ingester. DSpace provides a facility to convert data to CERIF-XML. However some required data elements could not be mapped to CERIF – REDIC has therefore worked with Brigitte Jörg from the CERIF Support Project at UKOLN and initiatives at other UK institutions to suggest additional CERIF entities to be considered by the CERIF Task Group. CERIF 1.3 (in February 2012) previously included improvements to the equipment and facility entities.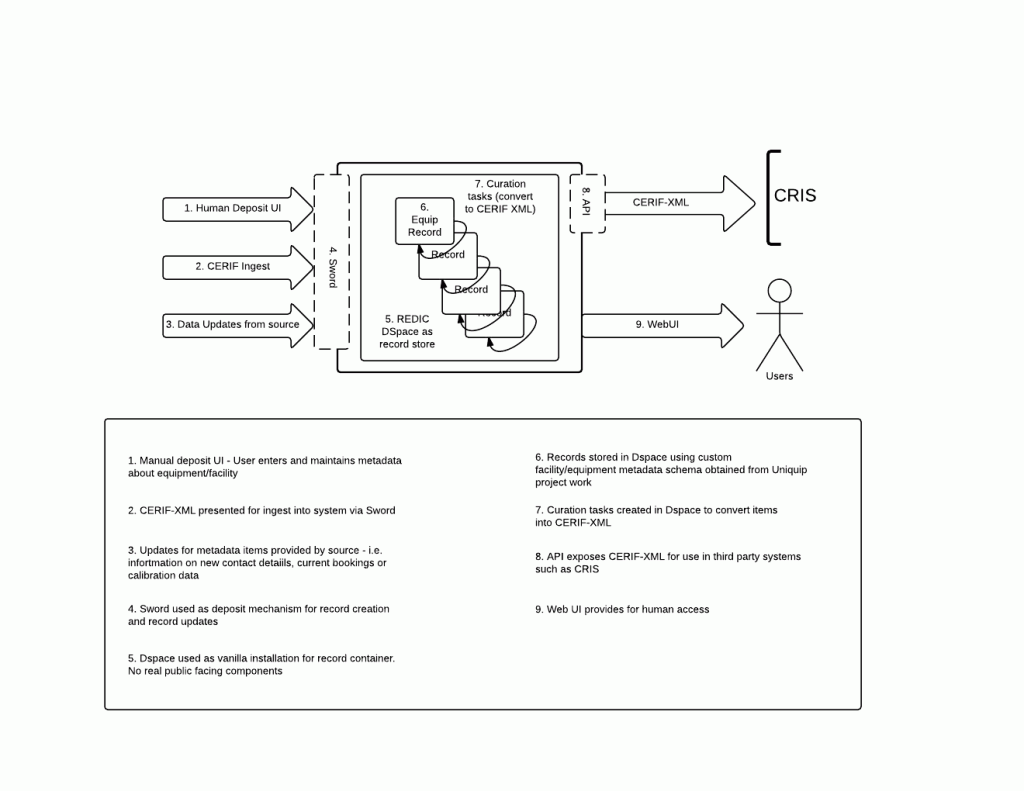 The equipment and facilities contained within the register are each assigned a persistent identifier  (via the Handle System, as used by DSpace). The CERIF data model allows the linking of equipment to other information, such as people, projects and outputs (including research data) produced as a result of using the equipment; impact of use (and sharing) can therefore be captured.
REDIC has succeeded in bringing the concept of equipment/facility into the 'information mix' as an instrument of research. Together with the other equipment initiatives, REDIC is supporting steps towards the cultural change needed to achieve wider implementation and realise the benefits.