euroCRIS Spring 2013 Membership Meeting in Bonn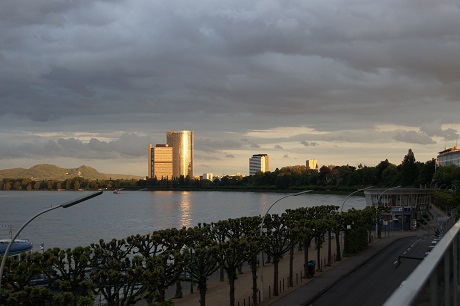 Just back from the euroCRIS Spring 2013 membership meeting which was held in Bonn this week, 13-14 May at the Deutsche Forschungsgemeinschaft (DFG). As well as being one of the main research funders in Germany, DFG is also one of the main providers of research information at a national level. There has been a recent upsurge in CERIF-related activity in Germany, as related in the many interesting national presentations. These included a significant initiative to develop a 'Core Data Set' for research activities in Germany. Leuphana University reported on use cases to reduce workload but also increase the quality of research reporting (since quality is valued most). Developments in Italy include a CERIF compliant open source CRIS in DSpace (as part of SURplus) at CINECA (with Hong Kong University as a partner). I presented a work in progress report on my current study for JISC addressing the use of CERIF CRIS in the UK.
The draft OpenAIRE guidelines for CRIS interoperation based on CERIF XML were announced. euroCRIS is a partner in several EU projects including OpenAIRE and the new PASTEUR40A project on OA and open data. Other euroCRIS news included the development of a CRIS 'Reference system' with data export in CERIF XML plus compliance testing. euroCRIS is also working on mapping CASRAI data profiles to CERIF; the CASRAI approach is bottom up and CASRAI top down, so the two complement each other. In closing the meeting, Ed Simons, the new euroCRIS president suggested that euroCRIS work has previously focused more on technical development of the CERIF model and implementation, whereas it's now relevant to spend more time addressing business needs.
euroCRIS participants congregate for the official group photo at DFG
(photos by Pablo de Castro and Barbara Ebert)