Contact
Contacting the ISC at UKOLN
The postal address for the ISC at UKOLN is
c/o The Library
University of Bath
Bath,
BA2 7AY
UK
Additional contact details are:
Tel: ++44 (0) 1225 386580
Fax: ++44 (0) 1225 386838
Email: ukoln@ukoln.ac.uk
Contact details for ISC staff members are given on the People page.
Travelling to UKOLN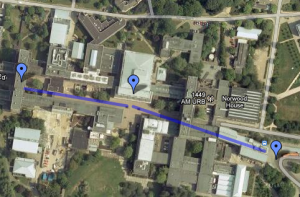 Information about travelling to the University of Bath is available on the University of Bath web site.
The University is at the top of a steep hill – walking is not recommended! The Orange (no. 18) and Blue (no. U18) buses travel from the bus station (near the train station) to the University.
The ISC at UKOLN offices can be found in two locations on the University of Bath campus as illustrated.
Level Four, Main Library: rooms 4.8 and 4.10 to 4.13
5th Floor, Wessex House: rooms 5.15/5.17, 5.20 and 5.22
You can view University of Bath campus map. You can also view the location on Google Maps.